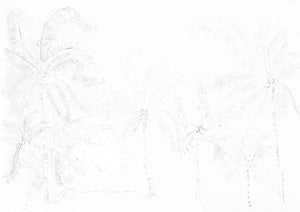 Coconut Grove
Sale price Price $1,399.00 Regular price Unit price / per
Tax included.
"Coconut Grove" is a stunning fine art print that has been reproduced from a hand painted original canvas, hand painted over 3 months in Queensland, Australia.
Representing everything Susie loves about the South Pacific and the Australian tropics, this coconut palm piece in stunning white on white and charcoal pencil shades is very romantic. 
Hand painted by Susie Hambleton in Coolum Beach, Queensland in late 2020, this piece was her first 2 metre x 1.5 metre canvas size original. It has coconut palms as well as banana trees and pineapples. It is signed by Susie.
The Muse Beach House
Susie used a "muse" beach house interior - a stunning luxury home in Sunshine Beach, Queensland, Australia (near Noosa and just beside the Noosa National Park) to vision this artwork for it double door entry way, overlooking the Pacific Ocean and a white interior with black accents in accessories. She imagined it hanging on the wall over a very large dark (almost black) oversized console table which had a large black pot sitting on it. 
Due to the large size of the original (huge it is 2 metres), the smallest size fine art reproduction this design is available in,  includes sizes A0, 2A0 and the original 2 metre size. 
The photographs used in this product description are un-professional ones, just taken on an iPhone due to how recent this fine art print has been available, only the first A0 printer's proof completed in mid-November 2021. 
Please note the framed image in the series of images below is the original painting on canvas. 
Within Australia allow up to 4 weeks for your order to be delivered. 
If you are ordering your art from outside of Australia, please get in touch before ordering. The price does not include international air freight and an additional invoice may be issued later.