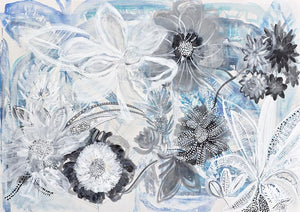 Bella
Sale price Price $507.00 Regular price Unit price / per
Tax included.
"Bella" is beautiful coastal inspired artwork on canvas.
Bella is a handpainted piece of art over the top of a piece of fine art. Always creating something new, this is one of Susie's favourite pieces. It is a pattern design and was painted in a circle - so you can turn this painting or hang it whichever direction you like. When you turn it you may see something new you didn't notice before. It was painted in 2020 in Coolum Beach, Queensland by Susie Hambleton.
Designed for a bedroom, and painted by candlelight this painting looks particularly good in the evening light and looks like a statement piece by day. 
This original work on canvas is currently on display at a gallery in Brisbane. Please contact us for viewing information.